You've probably heard the many wonderful reasons WHY you should read your Bible, things like:
It's one of the main ways God speaks to us.
It tells us how to get to know Jesus.
It's God's love story to you, and to all His people throughout time.
But have you heard HOW to start reading your Bible?
Because let's be honest, when we pull out that huge, leather-bound book that's thicker than a chemistry textbook, it's like…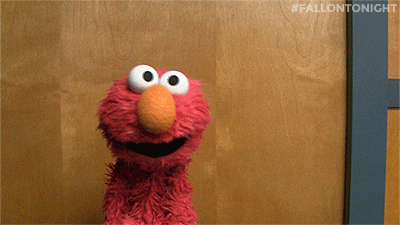 Yeah. It can be a little overwhelming.
Where do you start? How do you understand the fancy words?
If you feel like the Bible is intimidating, then this post is for you! Here are five of my favorite Bible reading tips to get you started.
1. Understand the context.
No one chapter or verse of the Bible was meant to be taken all on its own. If we try to understand God based on a few Bible verses, we'll probably misunderstand what He's saying to us. That's why getting the context of the whole Bible is so important.
I'm a huge believer in reading through the Bible. (I've never done it in a year, though. Usually it takes me two or three years, and that's okay.) But if you're brand new to the Bible, I would suggest starting with one of these tools for context.
A literal storybook Bible like Egermeier's Bible Story Book: This allows you to read the stories of the Bible in easy-to-understand language while staying true to the whole narrative of the Bible.
The Bible Project on YouTube: These amazing, easy-to-watch videos give you an overview of each book of the Bible, as well as covering some of the themes woven throughout Scripture.
After you become more familiar with the Bible (and have practiced reading easier sections—see tip #3), then I recommend slowly reading through the whole Bible. (But that's a topic for another day….)
2. Translation is key.
There are two main kinds of translations: literal translations (where the words are translated directly as they were written) and paraphrase translations (where the translator takes the idea of a passage and writes it in his or her own words).
Paraphrase versions like The Message can be very helpful for understanding confusing passages. However, I believe it is extremely important to also use a literal translation in your Bible study.
Finding a good literal translation is the key here.
One of my friends said, "I have such a hard time understanding what my Bible is saying. It's all 'thee' and 'thou' and weird words." That's because she was reading a translation that uses Old English—and we just don't use that language anymore.
You want your translation to be accurate, but also written in the language we speak today. Some of my personal favorites include the ESV, NKJV and NIV translations.
If you want to try out different translations and see which is easiest for you to understand, go to biblegateway.com, biblehub.com or blueletterbible.org. Those sites let you read and compare many different translations—and they also have lots of other great Bible study tools available for free!
3. Read book by book.
Have you ever started your devotions by letting your Bible just fall open and reading wherever it fell open to? I sure have—and I've gotten some super random, weird Scripture verses that way!
In order to really understand the context of what you're reading, I find it helpful to read a whole book of the Bible at a time—not just a few verses here and there in random spots.
I usually choose which book of the Bible I'm going to read, and then go through it in order—reading either a chapter a day or even just a few verses each day (if the chapters are especially long). The next day I pick up where I left off and read a little more of the same book, and so on.
If you've never read the Bible before, I recommend starting with the gospels in the New Testament.
The Bible is divided into sections, including the Old Testament (before Jesus came) and the New Testament (after Jesus came). The New Testament includes the gospels, which are four books written about Jesus's time here on earth. The books are named after the people who wrote them: Matthew, Mark, Luke and John.
I think the gospels are a great place to start because they're a little easier to understand, and they're all about Jesus's life and ministry here on earth. My personal favorite is the gospel of John.
4. Ask for God's help.
My favorite thing about the Bible is that you can read the same section many times and still continue to find new insights hidden in it. So each day, before you start reading the Bible, ask for God's help. He loves to help us understand it and bring new insights to light. After all, we're reading His words!
5. Take notes.
Lastly, keep a journal. When something stands out to you in your Bible reading, write it down. That will help you remember what you're learning. You can even write down your prayers to God. I've kept journals since I was 11, and it's amazing look back and remember things God taught me years ago.
I hope these five tips can help as you start reading your Bible!
What else helps you when you're reading the Bible? Comment below!