The Great Commission, found in Matthew 28, was Christ's last command to His followers before ascending to Heaven.
And Jesus came up and spoke to them, saying, "All authority has been given to Me in heaven and on earth. Go therefore and make disciples of all the nations, baptizing them in the name of the Father and the Son and the Holy Spirit, teaching them to observe all that I commanded you; and lo, I am with you always, even to the end of the age." (Matthew 28:18-20, NASB)
It's also all about leading others to Christ. A quote usually attributed to Saint Francis of Assisi says this regarding the Great Commission:
Preach the Gospel at all times. Use words if necessary.
How can we effectively lead others to Christ unless we know as much as possible about the God we follow?
Sometimes it can be hard to think about who God is because, let's face it, He's just too big. We can, however, look at other things in order to remind ourselves whom we serve and why we lead.
This is the Orion Nebula (Messier 42). It's more than 1,200 light years from Earth and it's one of my two favorite images to search for on Google because it's so beautiful and complex. The Orion Nebula is the closest nebula to Earth, and on a clear night, you can see it with the naked eye.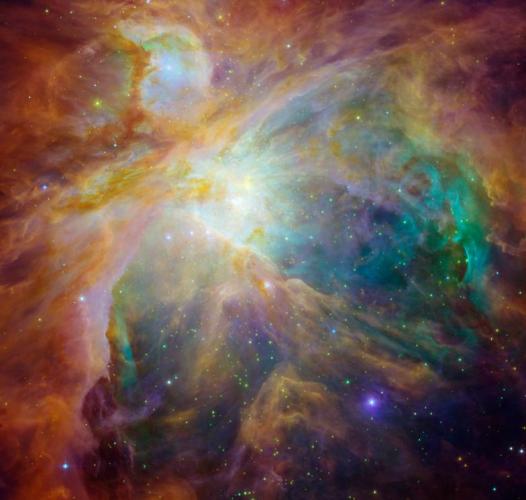 This is the Eagle Nebula (Messier 16). It's 6,500 light years from earth, but it contains one of the most photographed regions of space in the past 18 years. The image is of two extremely dense "cloud/gas" formations like columns. The Hubble telescope first photographed them in 1995. NASA called them "The Pillars of Creation" and it's my second favorite image to look up on Google.
These two nebulae sit out in the cold and dark of space, and do you know what they do?
They form stars—brand-new, super-hot, bright, beautiful stars! These are stellar nurseries, places where stars are born. God formed those nebulae for that purpose—to create new stars for His sky. The same Spirit who created places of such extreme heat and intense pressure for stars to be born created you.
If God can give nebulae what they need to form stars and they're NOT created in God's image, what can God give you—who IS created in His image—the ability, power or wisdom to accomplish?
Psalm 19 says this:
The heavens are telling of the glory of God; and their expanse is declaring the work of His hands. (Psalm 19:1)
Sometimes before we can lead others to Christ, we need to take a step back and remember that Jesus Christ is God in flesh. Then we need to spend time thinking about who our God is. Our God set mountains in place. Our God brings protection and destruction. Our God created places of vast beauty to produce more stars. That same God created you, me and everyone we know.
For You, O Lord, have made me glad by what You have done, I will sing for joy at the works of Your hands. How great are Your works, O Lord! Your thoughts are very deep. —Psalm 92:4-5
Girls, what are some other things we can observe that teach us about the God we serve?
[Images: T. Rector (University of Alaska Anchorage)]
More Stories Like This on Project Inspired:
What Does Having Courage REALLY Mean?
Did You Know That God Pursues YOU?
How Do You Celebrate When God Answers Your Prayers?